A podcast about how to make film and TV by filmmakers who actually make them. Interviewing guests from the film-making world from Indie film to Hollywood and everything in between. Hosts Giles Alderson (The Dare), Lucinda Rhodes Thakrar (Knights of Camelot), Christian James (Fanged Up) & Andy Rodger (World of Darkness), Dom Lenoir (Winter Ridge) and many others.
Episodes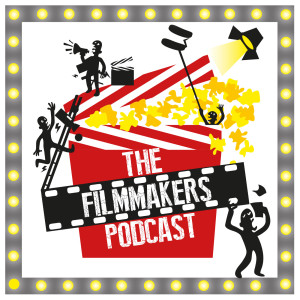 Tuesday Jan 11, 2022
Tuesday Jan 11, 2022
Today, Giles Alderson and co-host Dom Lenoir welcome not one but two amazing guests to this very special episode. First, they talk to the one and only Joe Wright! Yes, that's right, Joe Wright, the director of films such as Pride & Prejudice (2005), Hanna (2011), Anna Karenina (2012), Darkest Hour (2017), and The Woman in the Window (2021). But today he's here to talk about his latest film, Cyrano, starring Peter Dinklage, Haley Bennett, Kelvin Harrison Jr. and many more. He talks about how he gets great performances, the importance of rehearsals, what he's looking for in an actor, working with the same crew and how he preps a movie.
And then, Giles and Dom had the pleasure of speaking to the screenwriter of Cyrano, Erica Schmidt. She has never written a screenplay before, but she has written a lot of plays. That is why she talks about her work and life as a playwriter, the challenges of turning a stage play into a film script, how the film came about, and she discusses what she learned from being on set.
It was a great pleasure talking to these brilliant minds. So, sit back, relax, and enjoy this week's episode with Joe Wright & Erica Schmidt.
CYRANO will be released in February!
Too self-conscious to woo Roxanne himself, wordsmith Cyrano de Bergerac helps young Christian nab her heart through love letters.
EPISODE LINKS
Cyrano TRAILER
PATREON
Big thank you to:
Marli J Monroe
Want your name in the show notes or some great bonus material on filmmaking?
Join our Patreon for bonus episodes, industry survival guides and feedback on your film projects! Our new 4 tier structure is in place. Come join the community!
https://www.patreon.com/thefilmmakerspodcast
MERCH
Spread the Word with Our Merch T-Shirts, Hoodies, Mugs, Masks and Water Bottles all now available in some very cool designs.
SUPPORT THE PODCAST
Read & Sign Up for The Wrap Up – Our weekly Newsletter with news and information from the world of film
Subscribe on iTunes, Spotify, Podbean, or wherever you get your podcasts.
Help us out and write us a review (a good one!), tell your friends and CHOOSE FILM.
Get in touch? Email us thefilmmakerspodcast@gmail.com
Follow us on Twitter Facebook and Instagram
Check out our full episode archive at TheFilmmakersPodcast.com
CREDITS
The Filmmakers Podcast is hosted, produced and written by Giles Alderson @gilesalderson
Edited by @tobiasvees
Social Media by Kalli Pasqualucci @kallieep
Marketing Huw Siddle
Logo and Banner Art by Lois Creative 
Theme Music by John J. Harvey
Part of the www.podfixnetwork.squarespace.com
WATCH OUR FILMS
The Dare Canada and USA
A Serial Killers Guide to Life | Trailer
Arthur & Merlin: Knights of Camelot
Winter Ridge UK
MORE FROM OUR FRIENDS
Follow our Regular Hosts @LucindaRhodes @DirDomLenoir @35mmdop @philmblog @IanSharp1 @Cjamesdirect @dan710ths
Follow Make Your Film for Live Events @makeyourfilm20 
Follow our Movies @thedaremovie @Food4ThoughtDoc @FangedUpFilm
Raindance events www.raindance.org
The Filmmakers Podcast recommends Performance Insurance
Music from musicbed.com
Giles Alderson's website